Pay For the Air You Use, Not the Air You Lose!
Published date: 08 Jan 2021
Back to Article Listing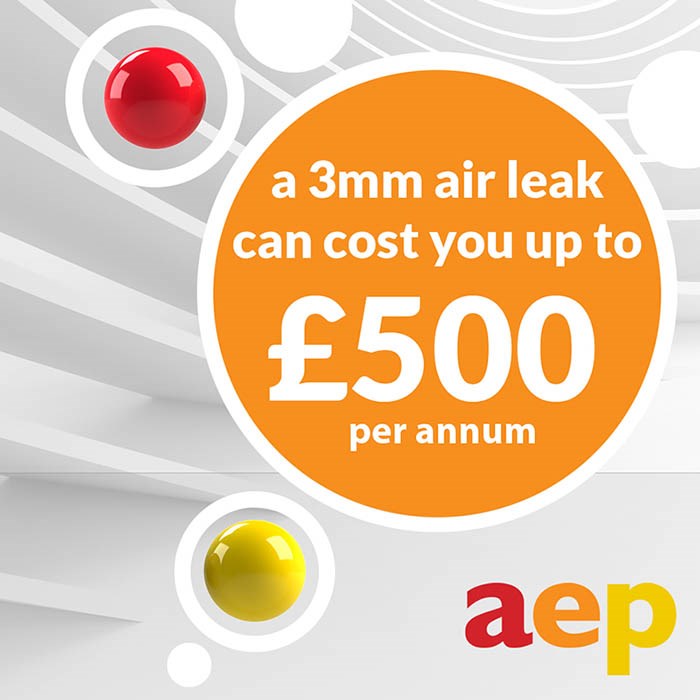 Booking a regular air system audit with AEP will help you understand where you have operating inefficiencies.

At AEP we offer air leak detection and pressure integrity services. Detection is of the upmost importance for 2 main reasons:
To continue operating efficiently and reliably
To ensure safety of personnel
When commissioning a company to conduct such tests it is important to employ one with the necessary accreditations. At AEP we are committed to be at the forefront of our industry and therefore hold the following accreditations and affiliations:
- British Compressed Air Society member (BCAS) and trained to ISO11011
for Energy Auditing
- Verified by Achilles who administer the Utilities Vendor Database
- We hold ISO9001:2015 quality accreditation and ISO14001:2015
environmental accreditation
During the leakage test our engineer will walk around the full ring main including flexible pipes and all downstream pneumatic equipment to assess for damage or tampering; check joints; listen for audible leaks or unusual noises from fittings or valves plus monitor any movement in the pipework. A leak detector will also be used alongside monitoring the system's pressure.

The purpose of the integrity test is to ensure that the system is safe. The system will be put under an agreed test pressure and joints and surfaces will be examined for leakage or plastic deformation etc.

Pay For the Air You Use, Not the Air You Lose!
Contact us today to find out more about our comprehensive leak detection services for compressed air and gas systems.
Mike Doe, Sales Manager
mike.doe@aep-ltd.co.uk / 01404 548000